Bioenergy Community of Practice
The Bioenergy Community of Practice (BioE-CoP) is a peer-to-peer learning network of practitioners from governments, the private sector and non-governmental organizations, who work together for advancing the development of bioenergy in Latin America and the Caribbean. Launched in 2016 by the Secretariats of the LEDS LAC Regional Platform and theLEDS GP Energy Working Group, the BioE CoP brings together multiple LAC government leaders and key international experts to exchange good practices and provide tools and resources towards the design and implementation of bioenergy policies and programs.
Invitamos a todos los interesados a participar de la comunidad de Bioenergía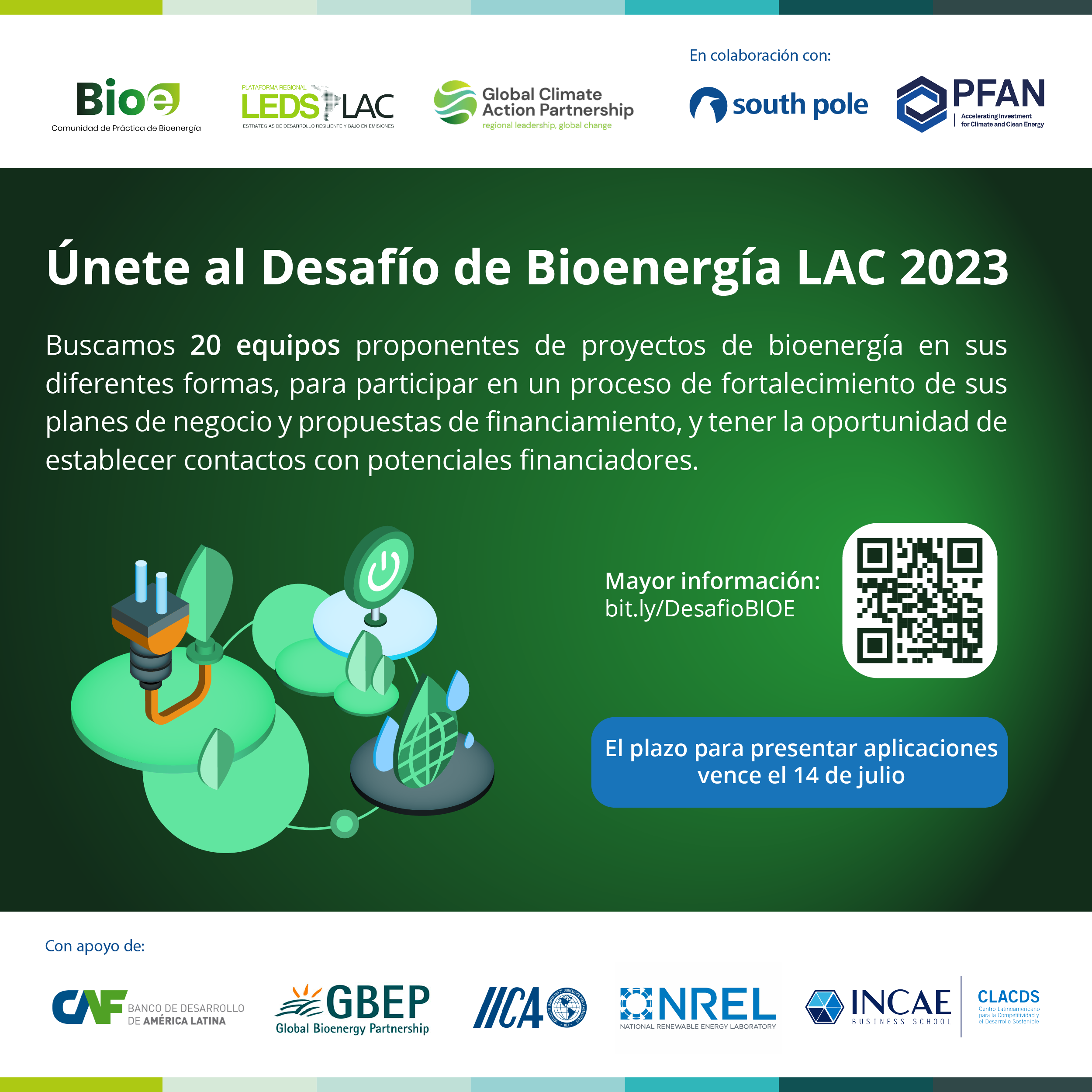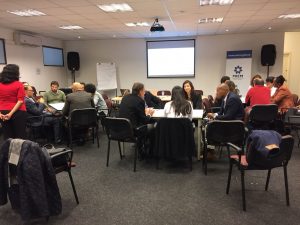 Participants​
Since 2016, the BioE-CoP has enabled experts from 13 countries: Antigua and Barbuda, Argentina, Bolivia, Belize, Chile, Colombia, Costa Rica, Dominican Republic, El Salvador, Guatemala, Jamaica, Mexico, and Uruguay; as well as numerous regional and national organizations to exchange experiences about opportunities and challenges for bioenergy in LAC.
Activities and thematic focus
Past and planned activities include: online exchange and training sessions, in person workshops, bilateral exchanges, organization of webinars, coordination of technical assistance from CoP partners to member organizations, dissemination of information to CoP members about relevant initiatives and tools; and development of knowledge products.
Although the Community of Practice has a broad focus on different forms of bioenergy, each year the learning activities are organized around a specific topic, which is selected based on the interests expressed by the CoP members.
The topics during the first three years have been:
Please see below a list of our online and in person activities.
Our recent activities and material
2019 – 2020 - 2021 - 2022 - 2023. Integrating bioenergy in national climate and energy policies
Sesión de intercambio de experiencias El potencial de los residuos orgánicos para proyectos de bioenergía y compostaje: Caso Reciclo Orgánicos
Sesión de fortalecimiento de capacidades Experiencias y oportunidades de proyectos de Biogás y metano para obtener incentivos a través de créditos de carbono
OECD Regional Workshop Finance and investment mobilization for bionergy projects in LAC
Presentación en línea Mercados de carbono: conceptos básicos, oportunidades y retos para proyectos de bioenergía
Resultados asistencias técnicas a instituciones de la Comunidad de Práctica de Bioenergía
Intercambio de experiencias en el desarrollo de proyectos de biogás en el sector agropecuario y agroindustrial en Latinoamérica
Online presentation El potencial de la producción y uso del hidrógeno / The potential of hydrogen production and use
Online presentation Ruta de descarbonización del transporte marítimo al 2050" / "A Pathway to decarbonise the shipping sector by 20250
Online presentation Analysis of barriers to investment in biogas in Colombia
Este informe presenta los resultados y recomendaciones del Estudio de barreras a las inversiones en biogas en Colombia, desarrollado en el marco de la Comunidad de Práctica de Bioenergía por la Secretaría de la Plataforma Regional LEDS LAC y el Grupo de Trabajo de Energía de LEDS GP, con apoyo del Climate Helpdesk de LEDS GP. La metodología utilizada toma en cuenta las experiencias de los desarrolladores de proyectos de biogás y otros actores, para identificar las barreras más importantes a las inversiones en biogás y las medidas de política más adecuadas para abordarlas.
Brief Report: Análisis técnico-económico de alternativas de gestión de digestato y producción de fertilizantes.
El presente brief presenta los principales resultados de la asistencia técnica proporcionada por un equipo del Instituto de Ingeniería Agraria y Suelos de la Universidad Austral de Chile a Agrogeneradora, Sociedad Anónima filial de Grupo Central Agrícola (Guatemala), como parte del apoyo del Climate Helpdesk del Low Emission Development Strategies Global Partnership (LEDS GP).
Esta asistencia técnica ha sido gestionada por la Secretaría de la Plataforma Regional de Estrategias de Desarrollo y Bajo en Emisiones (LEDS LAC), en el marco de la Comunidad de Práctica sobre Bioenergía (Bio-E CoP, por sus siglas en inglés).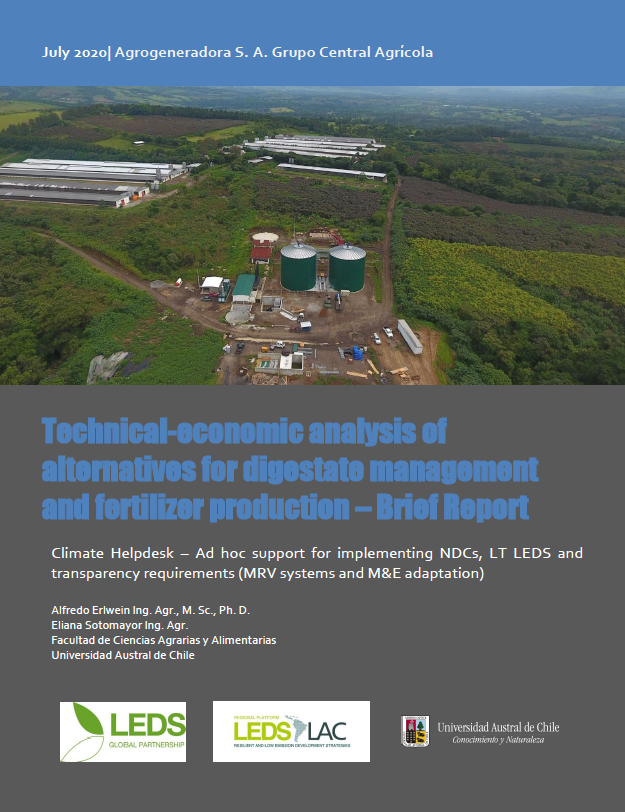 Online presentation The GBEP Sustainability Indicators for Bioenergy in Paraguay. Methodology, results and policy recommendations.
GBEP Sustainability Indicators on Bioenergy – 1st edition (2011); available here.
Report "Sostenibilidad de la biomasa forestal para energúa y del etanol de maíz y caña de azúcar en Paraguay»; available here.
More information on GBEP and the indicator measurement in other countries is available on the website: www.globalbioenergy.org
Online presentation Integrating bioenergy in national energy and climate policy: The experience of Honduras
Online presentation Inter-institucional coordination for sustainable bioenergy development: The case of Ecuador
Online presentation Biomethane in Argentina: potential, progress and policy challenges
Online presentation Making Bioenergy Sustainable
Taller de Discusión: La contribución de la bioenergía a la descarbonización del transporte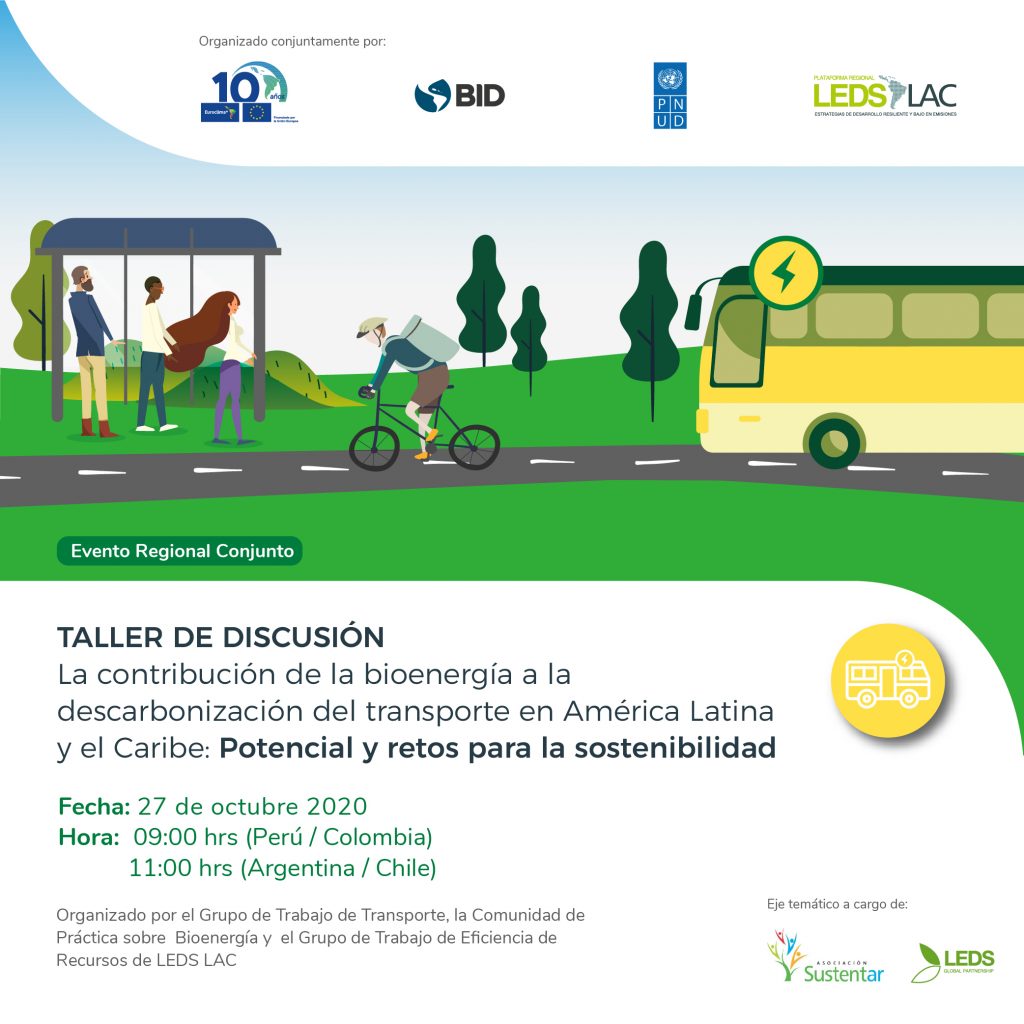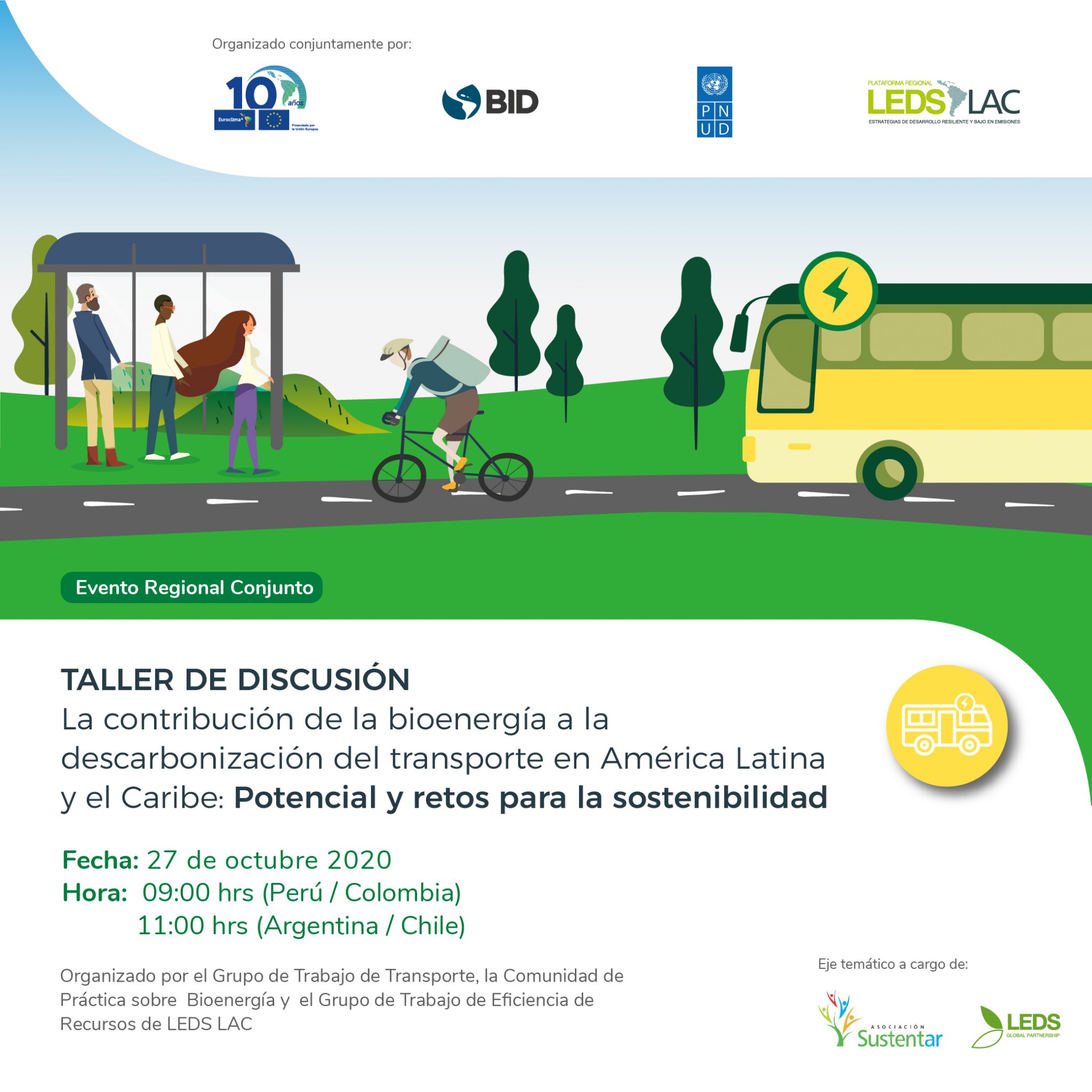 Online presentation
Residential Energy Transition Strategy in Chile: Sustainable alternatives to fuelwood.
Online presentation
PROBIOMASA: Avances y lecciones aprendidas del desarrollo de la bioenergía en Argentina
Online presentation
The potential and challenges for bioenergy development lessons from Brazil
Online presentation
Clean Energy ESB: reducing emissions and promoting sustainable development through carbon biocapture
Online presentation
The Global Methane Initiative Activities and Resources for the Biogas Sector
Organized in collaboration with CAF Latin America Development Bank and other partners.
Expert Dialogue on Bioenergy and Climate Ambition in the framework of COP 25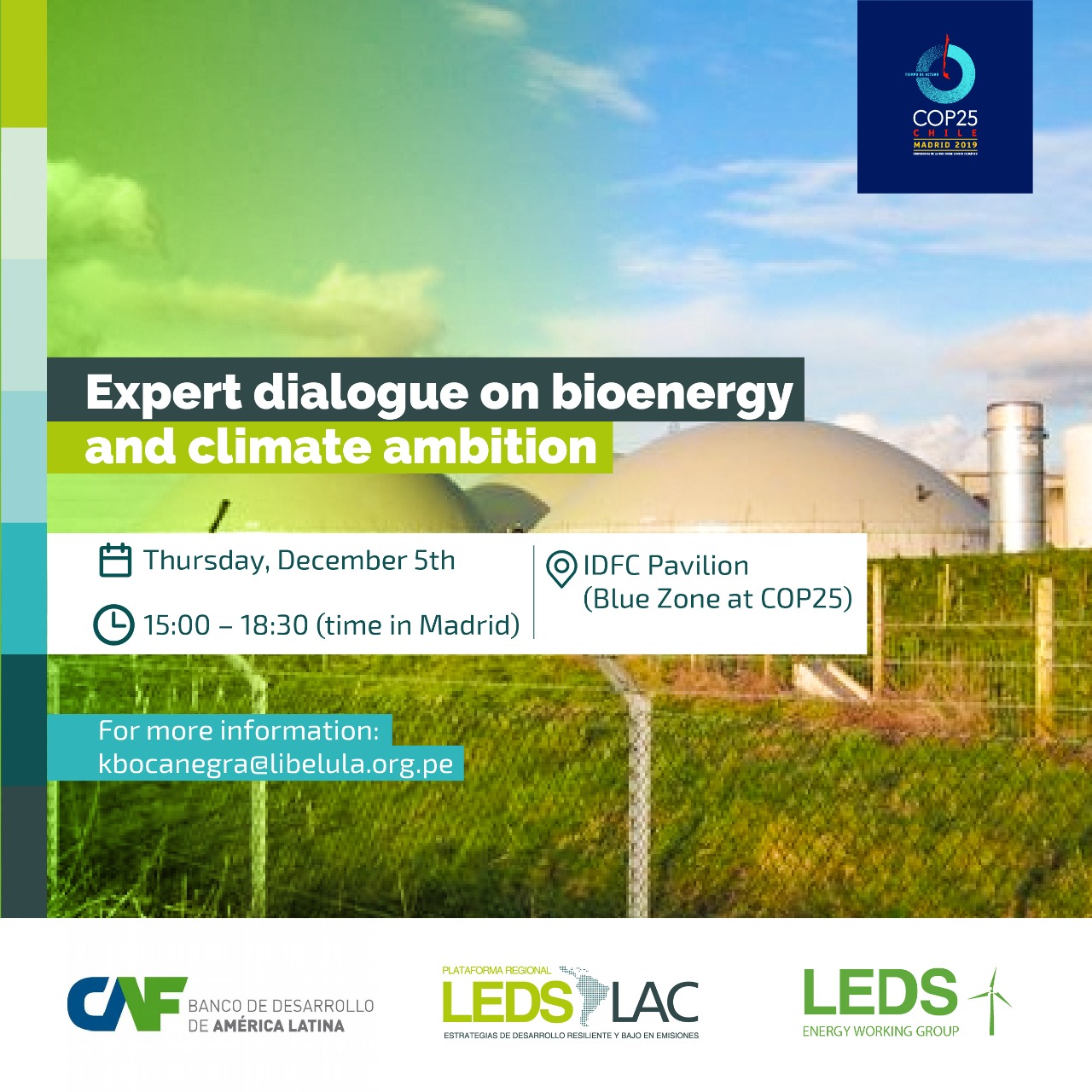 Organized in collaboration with CAF Latin America Development Bank and other partners.
2018 – Policy and market environment for sustainable biogas investments
2016 – Bioelectricity Policy
Are you a member of this Community of Practice?
Access the private archive containing historical material from all virtual meetings and sessions.
También contamos con estas otras 6 Comunidades de Práctica:
The Bioenergy Community of Practice is co-organized by: